Blood Plasma
Blood plasma is a fluid medium in which blood cells are suspended. Plasma carries nutrients to the body's cells and also flushes waste products to be excreted by the body.
The most important components in plasma are water, proteins and clotting factors. Along with platelets, plasma serves an important function and thanks to clotting factors, helps repair damage to blood vessels and stanching bleeding. Plasma can also be donated by the apheresis method.
Plasma separated from donor blood is fresh frozen within 24 hours of the donation and the frozen plasma can be kept at -25°C or lower for up to three years.
Plasma transfusions are required by patients with coagulation disorders and to compensate for major blood loss. Hospitals use about half of the collected plasma for patient transfusions and the rest is routed to fractionation.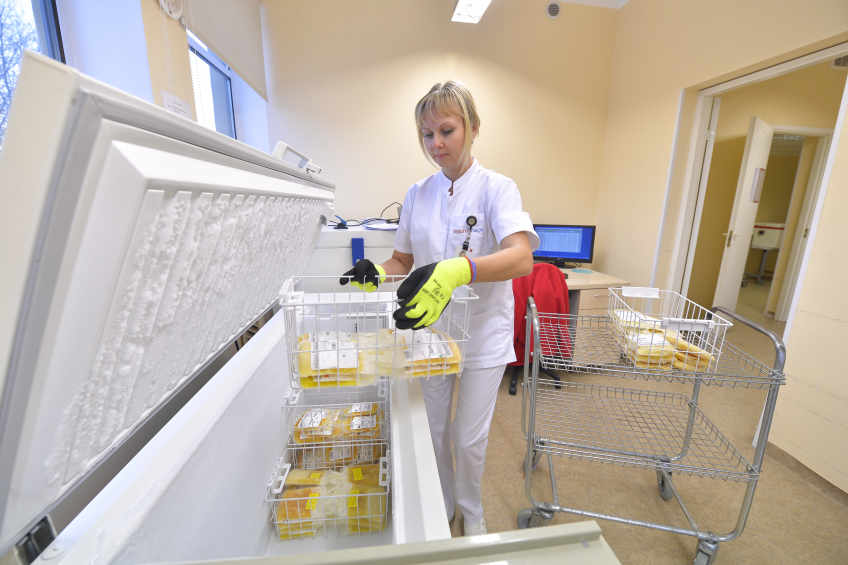 Plasma, an indispensable source of medicines
Fractionation – the process of purifying, concentrating and separating out various components – can produce more than 20 different, very effective medicines. They are used for treating many diseases and conditions, such as immune deficiency, neurological illnesses, infectious and autoimmune diseases, cardiac insufficiency, asthma, recurring miscarriage, and haemorrhages and haemophilia.
In Estonia as well, plasma derived products are used actively, but most of these medicines do not have a synthetic alternative and the importance of medicines produced from plasma can hardly be overestimated.
Already since December 2007, Estonia and other European Union members has been taking part in a program for making Europe self-sufficient with regard to blood products Thanks to this, countries that do not have fractionating facilities can process donor plasma with that of other countries, ensuring expedient and efficient use of plasma. The North Estonia Medical Centre blood centre sends plasma to the Swiss fractionating facility Octapharma AG.
Fractionation of plasma was discontinued in Estonia in 1997 as it was no longer in line with the requirements for production of medicinal products in Europe. Fractionation facilities require large investments and the technology has to be updated constantly. It isn't economically efficient for countries of small and medium size to maintain such facilities and thus even many larger countries such as France and Canada have closed down their own facilities.
The cooperation project with Octapharma AG factors in Estonian plasma quantities, which means only the plasma left over at Estonian hospitals is sent to the fractionation, and the project has not effect on supply of Estonian hospitals. Donors can be sure that their blood is used even more thriftily for treating as many patients as possible, as the medicinal products made from plasma are returned to Estonia and used for Estonian patients.
The need for preparations from plasma is growing in Estonia and worldwide constantly, with new uses found all the time. The small quantities from Estonia are likewise quite important and needed from the perspective of Europe as a whole.
The Blood Centre has launched plasmapheresis procedures performed at the Ädala street location. Plasmapheresis increases even further the quality of plasma transfused to patients. It is important that the plasma to be transfused to a given patient come from the same donor. Collecting plasma by way of apheresis allows up to 600 ml of plasma to be collected; otherwise it would take several whole-blood doses from different donors to attain that amount. The apheresis procedure is safe for donors!