Blood Transfusion Service in Estonia
There are four blood collection and processing facilities in Estonia, belonging to the hospitals in four directions – North, South, West and East. Blood centres in Tallinn, Tartu, Pärnu and Kohtla-Järve are independent from each other, but working under the umbrella of the common legislation which regulates collection, testing, processing and quality issues.
Altogether 16 doctors, 48 nurses, 24 lab technicians and 53 persons with other qualifications are able to serve 35 000 donors per year who are giving 60 000 donations and over 130 000 different blood products have been produced.
Utilization of blood products in Estonia – 5 years' trend
North Estonia Medical Center's Blood Center
North Estonia Medical Centre's Blood Centre (NEMC BC) is the biggest in Estonia, more than half of all donations are made here. It is merged with the biggest tertiary care hospital in Estonia and 60% of its production is used in the North Estonia Medical Center.  Above it all together 14 hospitals are served in the region.
NEMC BC has two stationary blood collecting locations in Tallinn and mobile team session every working day – about 240 sessions annually.
There are 28 different kind of products on the list, the main categories in a year 2014 were:
All this production is possible because of a loyal and sufficient donor population:

NEMC BC donations in 2014: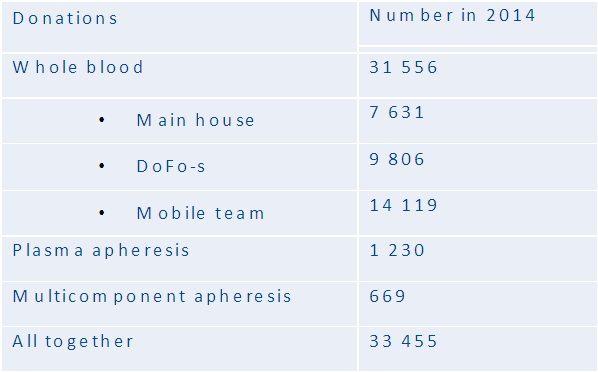 The number of donations is still growing, the number of donors is not – that means more donations per donor and more loyal donors.
Donors and donations 2006-2014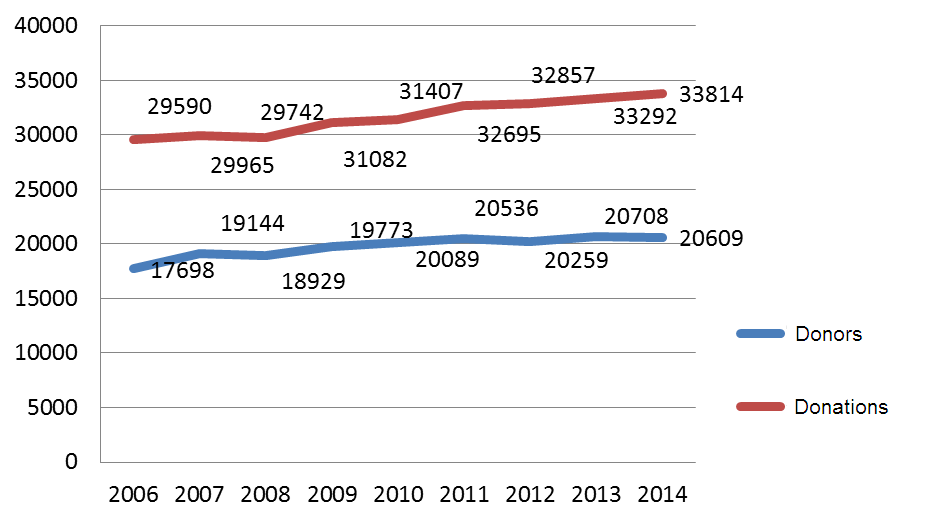 The presentage of first time donors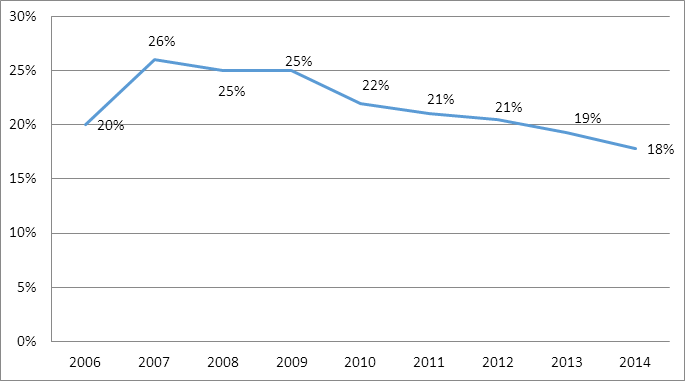 Testing
Mandatory tests to donor blood:
HBV – HBsAg, DNA
HCV – aHCV, RNA
HIV – aHIV ½, HIV p24 Ag, RNA
Syphilis – anti-TP
ABO, Rh(D)
K
Irregular antibodies
Facultative testing to donor blood:
Phenotyping – Rh system, clinically important antigenes
Genotyping – weak D, clinically important antigenes
Testing of blood components:
Platelet concentrates – 100% BactAlert testing
Hb, Hct
Residual leucocytes
Haemolysis
etc
Quality system
GMP and ISO standards are implemented, all processes and procedures are covered by SOP-s.
NEMC BC has local authorities' licence for blood center activities and additionally accreditation of laboratories. Regular proficiency testing is performed and self assessment by quality audits is a part of everyday life.
About 20 key performance indicators are monitored and assessed.
Information system
Estonia's own system is in use since 1996. It includes ISBT-128 coding, donor registry, product registry, donor management together with e-donor application, automatic test result transfer, whole blood collection, apheresis, separation and ultrafreezing data.
International cooperation
NEMC BC is a member of European Blood Alliance since 2006