Celebrating ten years of donor tents!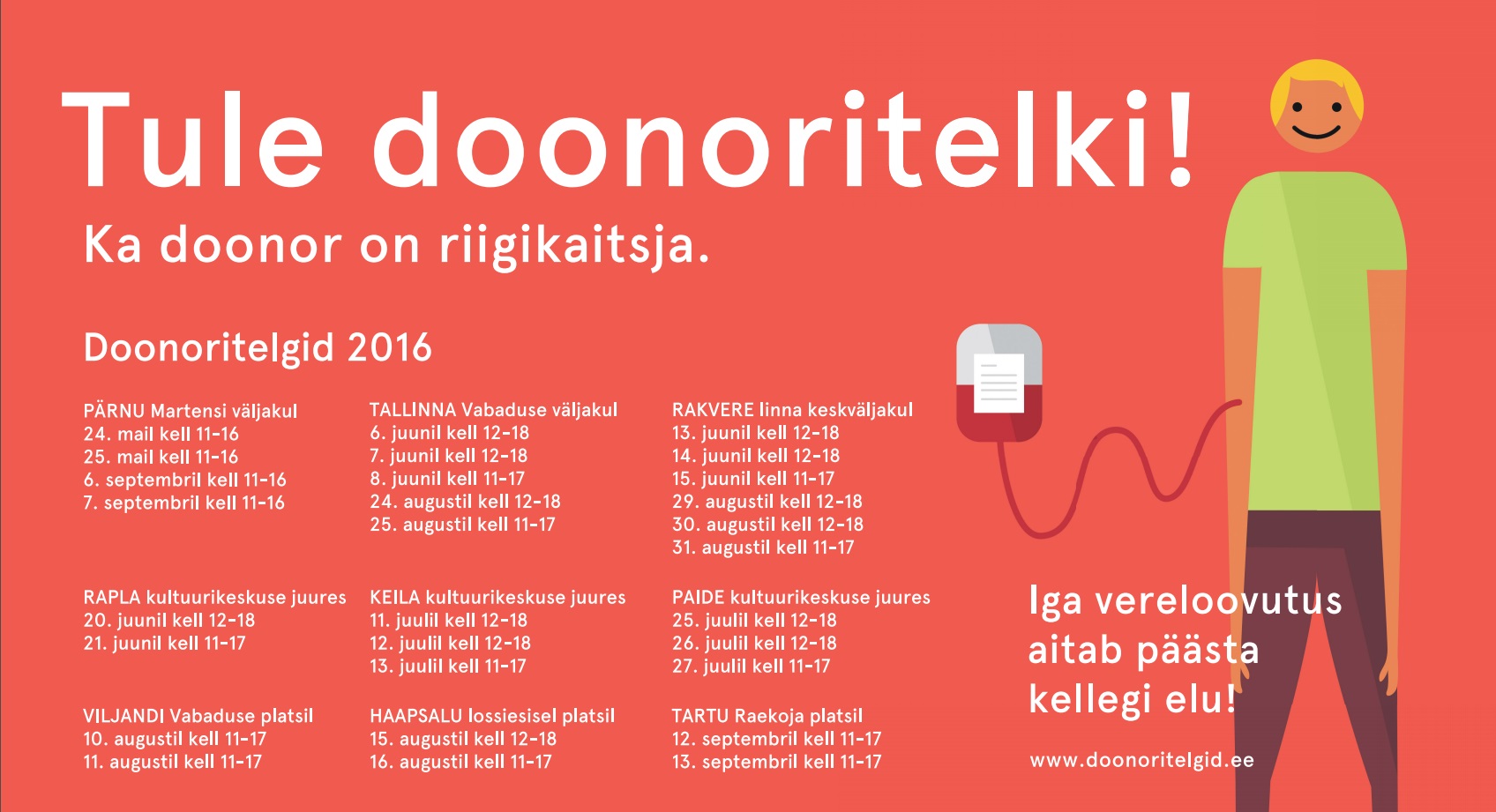 This year, the donor tent tour with the slogan 'The Donor is Also a Guardian of the State' will be running from late May to mid-September, making stops in nine cities and towns in Estonia: Tallinn, Keila, Rapla, Paide, Haapsalu, Rakvere, Pärnu, Tartu and Viljandi.
Ülo Lomp, the Blood Centre's development director and initiator of the donor tents project, says: "This year, the Blood Centre and donors have cause to celebrate a couple of special occasions.  16 May is the Blood Centre's 75th birthday and this summer marks another milestone regarding our donor tents – 10 years have passed from the summer we first started to organise those events. Due to this summer being a special one, we want to celebrate the anniversary accordingly – great performers will be there to entertain donors and townspeople. In Tallinn, donor tents will be opened with an impressive concert by the orchestra of the Defence Forces."
The first stop of the tour will be in Pärnu where on 24 and 25 May employees of Pärnu Hospital blood centre will be welcoming kind people from Pärnu into our yellow tents to do some good. Next, from 6 to 8 June, we will visit Tallinn and Blood Centre tents will be set up on Freedom Square. After Tallinn, the tour will continue in Rakvere, Rapla, Keila, Paide, Viljandi and Haapsalu, and the last event will be held on 12 and 13 September in Tartu.
The donor tent project is made possible through cooperation with the Rescue Board, the Defence Forces, the Ministry of Social Affairs, the Ministry of Defence, the Police and Border Guard, county and city governments, the Road Administration, the Defence Forces recruitment centre, the National Defence College, the Defence League and Estonian Red Cross.
Eligible donors are healthy, rested and have eaten, weigh over 50 kg, are between 18 and 60 years of age and are Estonian citizens or have been living in Estonia on a residence permit for more than a year. The Blood Centre encourages donors to donate blood at regular intervals, that is, three to four times a year. Each donation is used to help at least three patients. The ones most frequently in need of donated blood are cancer patients, women giving birth, infants and patients undergoing a major surgery, but also those suffering from anaemia, haemorrhage, serious traumas and other medical problems. Annually, some 19,000 patients receive blood transfusions in hospitals in Estonia.
During the summer of 2015, a total of 3,132 people donated more than 1,400 litres of blood in donor tents organised by the Blood Centre of North Estonia Medical Centre as well as the blood centres of Tartu University Clinic and Pärnu Hospital. Also, 630 first-timers were added to the number of other donors.
"It seems that last year's cool summer weather worked in our favour – the 2015 tour was the most successful one we have ever had. Our cheerful, yellow tents were visited by a record number of donors and it is due to those kind, happy people that we were able to help all patients who were in need of a transfusion," says Riin Kullaste, Head of the Blood Centre. She adds: "We are especially glad to hear donors giving positive feedback on the project. For example, a donor who visited our tents on 24 August in Rakvere left the following comment: 'The donor tents tour is the best campaign ever! A simple, catchy message about helping others out. Everything was perfectly organised!'"
For additional information on the donor tents summer tour, visit the campaign website at www.doonoritelgid.ee.
Further information is also available on the Blood Centre's homepage at www.verekeskus.ee and on its Facebook fan page at 'Doonorid ja Sõbrad'.
Alternatively, keep an eye on the Blood Centre's Instagram page @verekeskus. We invite you to post your photos of donating blood at donor tents events.