The 11th summer lies ahead for the donor tents programme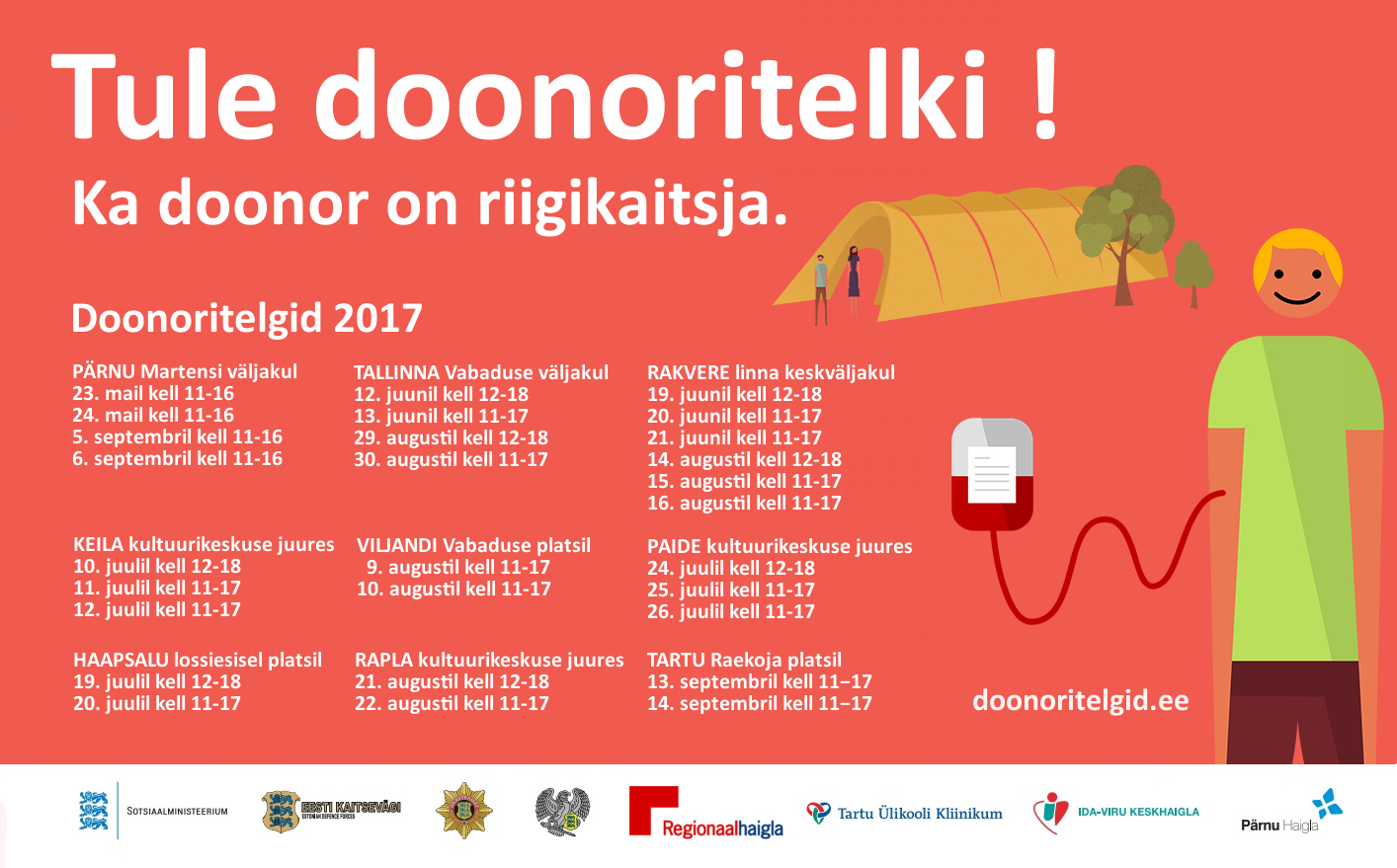 This year the donor tents tour will once again run from late May to mid-September with the slogan 'The Donor Is Also a Guardian of the State', making stops in nine cities and towns in Estonia: Tallinn, Keila, Rapla, Paide, Haapsalu, Rakvere, Pärnu, Tartu and Viljandi. The donor tent tour lasts 28 days.
Ülo Lomp, the Blood Centre's development director and initiator of the donor tents project, says: "The 11th summer lies ahead for the donor tents programme! This number speaks for itself, proving that we have launched a great initiative that is well-received by donors and has turned into a nice tradition. The donor tents programme has increased the visibility of donorship, or in other words, it has brought the Blood Center closer to the people. This is very important for attracting young people who do not have the experience of giving blood yet, but we are also happy to see that regular donors as well have taken to visiting our tents." He adds: "The opportunity to be a guardian of the state, so to speak, is clearly a valuable aspect. Our donor tents programme brings together a variety of institutions that are directly or indirectly concerned with and committed to improving people's wellbeing and health."
The opening event of the tour takes place in Pärnu where on 23 and 24 May employees of Pärnu Hospital blood centre will welcome kind people from Pärnu into our yellow tents to do some good. Next, on 12 and 13 June, we will visit Tallinn, and Blood Centre tents will be set up on Freedom Square. After Tallinn, the tour will continue in Rakvere, Keila, Haapsalu, Paide, Viljandi and Rapla, and the last event will be held on 13 and 14 September in Tartu.
The donor tents project is made possible through cooperation with the Rescue Board, the Defence Forces, the Ministry of Social Affairs, the Ministry of Defence, the Police and Border Guard, county and city governments, the Road Administration, the Defence Forces recruitment centre, the National Defence College, the Defence League and the Estonian Red Cross.