The Blood Centre thanks donors for their kindness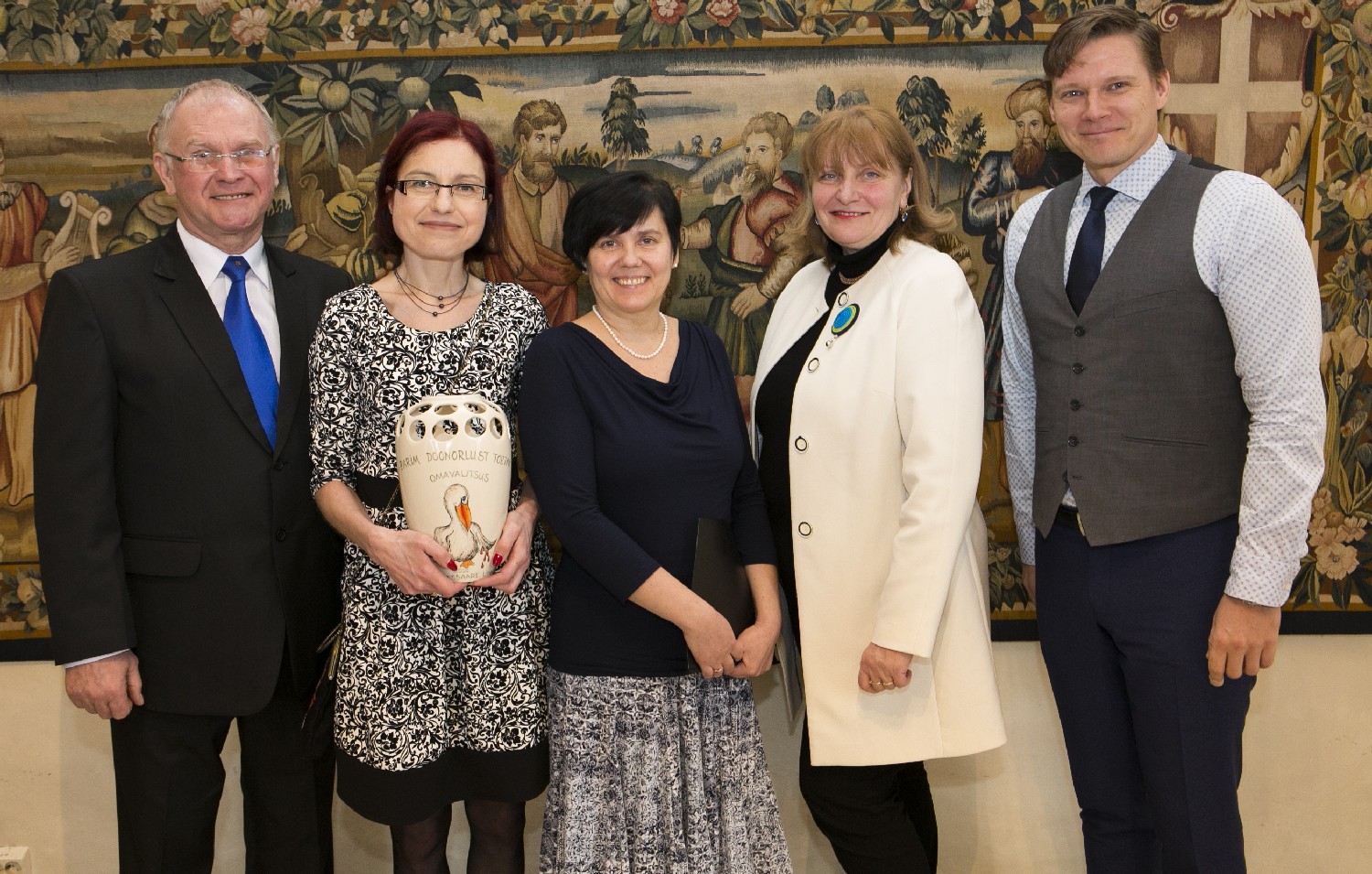 The Blood Centre recognised its outstanding blood donors from Tallinn and Harju County at a donor appreciation event held at Tallinn Town Hall at noon on 26 February. The donors were welcomed by Helmen Kütt, Chairman of the Riigikogu's Social Affairs Committee; Agris Peedu, Chairman of the North Estonia Medical Centre's Board; and Dr. Riin Kullaste, Head of the Blood Centre. The Hellas youth choir provided the music for the event. The Blood Centre also presented Kuressaare with the Great Donor Cup for being the most active municipality in promoting blood donation. The award was received by Kairit Lindmäe, Head of the Department of Social Affairs.
The focus of the appreciation event shifts to different donors each year. This year the active and outstanding apheresis donors were highlighted. During an apheresis procedure, an essential blood component or components are extracted from blood by a separator and the rest of the blood is transferred back to the donor. "We perform plasmapheresis and multicomponent apheresis procedures at the Blood Centre. During plasmapheresis, three treatment doses of plasma are collected from a single donor. Normally we would need several conventional donors for this. Since the patient generally needs more than one treatment dose, it is always better to use the plasma from a single donor, which will reduce the risk of any reactions occurring during the transfusion. Multicomponent apheresis allows us to collect both thrombocytes (platelets) and plasma at the same time, and if need be, erythrocytes (red blood cells) as well," explained Dr. Riin Kullaste, Head of the Blood Centre.
This year the Blood Centre also recognised  donors who have been summoned to donate blood for a specific patient in the last year. "Most of the time we can help our patients by selecting blood from the blood bank based on AB0 and Rh blood types, but on some occasions, for example, in the case of patients carrying certain antibodies who are difficult to find matching blood for, we need to carry out additional blood type tests to find the matching donor," said Dr. Ulvi-Kaire Kongo, Head of the Blood Centre's reference laboratory. "Besides AB0 and Rh blood type systems there are 36 different blood type systems, some of which are rare," she stressed. "Today we have highlighted the donors of rare or special blood types who have quickly answered our call to help another patient with a similar blood type pattern and rushed to help."
We also appreciated standard erythrocytes donors or people whose blood type combination we find interesting and whose blood we can match to study the blood of other donors.
Young first-time donors who started donating their blood last year and have done it 3-4 times already, were also invited to the event. We hope they will join our group of loyal regular donors.
"This nice tradition of ours to greet the donors at the Town Hall is our effort to show even a fraction of gratitude on behalf of those they have helped." Dr. Kullaste noted, adding: "We would like to show appreciation to all of the people who come to our aid, putting their daily business aside. No-one can calculate the true value of a donation – could anyone put a value on a mother or a father returning to their children, a child saved for their parents, or even the value of a grandmother or a grandfather, having received a revitalising transfer, who can now return to their active lives?. You can surely say that donor blood is priceless!"
Traditionally, the Blood Centre also presents the Great Donor Cup to the most active municipality in promoting blood donation. This time, it was received by Kuressaare. The award was received by Kairit Lindmäe, Head of Kuressaare's Department of Social Affairs.
"Kuressaare has actively promoted blood donation for a long time. Their Cultural Centre has very good conditions for our mobile team. The islanders are very accommodating and kind people, who have always actively participated our donor days. There are volunteers, people from the Estonian Defence League and the Red Cross, as well as active students." said Ülo Lomp, Donorship Development Director of the Blood Centre, explaining the choice.
Last year the award was given to Rapla Parish. The award has also been given to Keila, Haapsalu, Narva, Paide, and Rakvere.